Vitamin E Eye Cream
For all skin types
Smoothes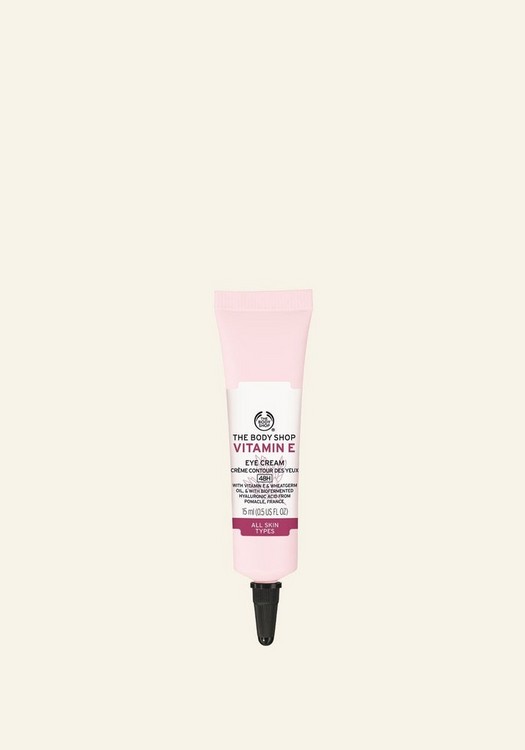 What does it do for you ?
This refreshing, hydrating tube of nourishment leaves your peepers feeling perfectly pampered.
When you think about it, the eyes have a pretty tough job. Constantly blinking, helping us snooze and even helping us express emotions - a smile wouldn't be a smile without them! And since the skin around our eyes is uber-delicate, there's even more reason to give them some extra special moisturising care. Enter the Body Shop's Vitamin E Eye Cream.
With a creamy, luxurious formula enriched with vitamin E and hyaluronic acid, our Vitamin E Eye Cream helps you on your way to bright-eyed perfection. It's a bestseller in The Body Shop's Eye Cream range for a very good reason. This iconic formula helps the skin around your eyes feel smoother, more supple and also helps to reduce the appearance of fine lines. It's like a wonderland of refreshment for tired eyes too.
Hey there, bright eyes.
For every day and every skin type
Enriched with vitamin E and biofermented hyaluronic acid
Iconic eye cream in our bestselling skincare range
Ingredients
2
---
---
---
Skufende
Vitamin E Eye Cream
Jeg elsker næste alle body shop, men vitamin E eye creme efter live ikke efter forventinger. Første fik allergi i øjenerne Anden cremen blive ikke absorber af hunden og den blive til en skrift hvide plastik agtigt film om på huden.
Was this helpful?
1 of 2 found this review helpful
---
Fantastisk produkt
Vitamin E Eye Cream
Jeg bruger den under øjnene, og den har på få uger reduceret mængden af fine linjer, som min concealer plejer at sætte sig i. Jeg smører den ud med fingrene, lader den tørre, og putter derefter concealer på med en svamp - og jeg har ikke længere problemer med, at det klatter under øjnene :-) Bonus - der er ikke parfume i! Jeg ville ønske, tuben var større!
Was this helpful?
1 of 1 found this review helpful
---